Deutsch
Die Installation von vna/J unter den aktuellen Windows Versionen 7, 8.1 und 10 ist einfach zu bewerkstelligen.
Führen Sie die folgende Schritte durch:
Prüfen Sie, ob eine aktuelle JAVA Laufzeitumgebung installiert ist, indem Sie auf der Windows Befehlszeile folgendes Kommando eingeben:
Das Ergebnis sollte dann so ähnlich aussehen:

Wird angezeigt, dass der Befehl nicht gefunden wurde, so muss eine Installation der Laufzeitumgebung durchgeführt werden.
Gehen Sie hierzu auf die Downloadseite von ORACLE
Laden Sie die jeweilig neueste 32bit- oder 64bit-Version auf Ihren PC herunter und installieren Sie diese.
Laden Sie die aktuelle Version des FTDI-Treibers für die serielle Schnittstelle des VNAs von der FTDI Webseite.
Verbinden Sie den VNA über ein USB Kabel mit Ihrem PC. Der Treiber sollte nun installiert werden und im Gerätemanager taucht die entsprechende serielle Schnittstelle auf
Laden Sie die aktuelle Version von vna/J von hier herunter. Es reicht, die JAR-Datei herunter zu laden.
Starten Sie vna/J durch Doppelklick im Windows-Explorer auf die JAR_Datei.
vna/J sollte nun starten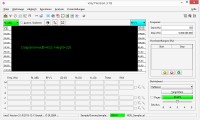 Wählen Sie aus dem Menü "Analyser" die Zeile "Setup ..." aus.
Wählen Sie in der linken Liste ihren Analyser und in der rechten Liste die Schnittstelle aus
  und drücken Sie die Taste "Prüfen".
Ist die Kommunikation erfolgreich so erscheint eine grün hinterlegte
Erfolgsmeldung und Drücken die Taste "Übernehmen".
Wählen Sie aus dem Menü "Abgleich" die Zeile "Erzeugen ..." aus.
Folgen Sie den Anweisungen im Dialog
speichern Sie am Ende die erzeugten Kalibrierungsdaten und schließen Sie den Dialog mit der Taste "Übernehmen".
vna/J ist nun vorbereitet und durch Drücken der Taste "Start" können Sie Ihre erste Messung durchführen.
English
As of now, please check the chapter "Quick-Start-Guide (Windows)" in the user manual.